SwimIO is the first global swimming app! It's live in 155 countries and has recorded over 3m swims covering 4 billion meters…that's around the world 100 times!
"Technology and water have previously caused a few issues for innovators but finally new ideas and products to encourage swimming participation are emerging…for instance when the most successful company in history, Apple, promote swimming as an activity on the series 2 Watch, you know innovation has arrived" (David Minton, 2017 State of the UK Swimming Industry Report).
SwimIO took the opportunity of taking Apple's technology one step further by integrating the swim algorithm from the Apple Watch Series 2 meaning swimming workouts can be recorded via Apple Health.
After a couple of months of hard work, and testing the integration with Apple, the app update has finally been released and we couldn't be more thrilled! Our developers spent hours coding the improvements and we had our team swimming virtual lengths in the office recording swims to work out the bugs. Before releasing the app to the public, we had 10 keen beta testers around the world volunteer to try it out and feedback any problems. The overall response we've had for this new software has been incredible so a big thank you goes out to our development team and beta testers!
This juicy, new update includes the Phase 1 release of our integration with Apple Watch (Series 2 only) & allows swims recorded within the Apple Watch Workout feature to be automatically imported into SwimIO - so no need to manually record swims anymore, you lucky people! There isn't an app for the Apple Watch itself in our Phase 1 release, so just record your swim normally through the watch. Also, please note that we only cover indoor pool swims currently not outdoor swims.
You can supplement the Apple Watch swim data with your sets, notes and make edits to swim data on import into SwimIO if needed as well as connecting it to your favourite pool. We love swimming with the Apple watch and want to give your swims a dedicated place to shine. The new update is simple as 1-2-3 to record swims. Once you've enabled the integration in the app, look out for the push notification after you've swum and let SwimIO turn your hard-earned exercise into glorious stats and motivation.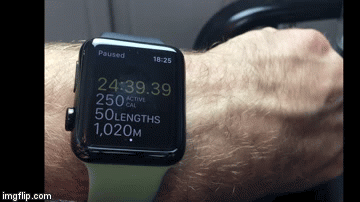 Along with these improvements we've also squashed a bug which was trapping you on our swim logging screen if you selected 'Custom Distance' or 'Custom Length'. Not anymore you don't! Loads of new virtual swim map goals have been added to keep you motivated. Try and get from Cuba to Florida and if you do we'll join you on Miami beach for a Bloody Mary in the morning. SwimIO swimmers combined circumnavigate the globe every 8 days, let's see if we can make it around the world in a week!
Come and say hi on twitter @HelloSwimIO